---
THE MIAGAO MUNICIPAL BUILDING
Mayor Julieta N. Flores Centerpiece of Development
---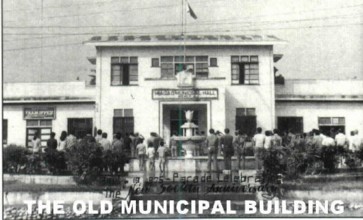 The Municipal Building is the seat of local governance. It may also be seen as the symbol of local autonomy, reflective of the style and manner on how local leadership manage the affairs of the local government unit.
Before World War II, (1940) the municipal building stood on the lot where the Justice Ramon Britanico Hall (Miagao Cultural Hall) now stands. It was a big structure made of concrete, iron roofing and wood. The Hall serve the purpose of Session Hall, Court Room and Social Hall. A big water tank made of concrete located at the back collect and store rain water for cleaning purposes. At the outbreak of the Japanese invasion the Municipal Building together with all the houses in the town was burned.
After World War II, (1945) a temporary building made of nipa and bamboo was constructed at the present site. This was once the site of the Elementary School with the Home Economics Building also destroyed during the war.
In the early 1950's under the Administration of Mayor Dioscoro Mueda, a new Municipal Building was constructed made of concrete, wood and iron roofing. It was one of the best in the Province of Iloilo. The Session Hall still serve also as the Court Room. It was already during the administration of Mayor Erlinda N. Britanico when the court room was given its own place at the ground floor in the room once occupied by the library.
In the early part of 1985 to accommodate the growing need for space to house the different offices, it was decided to construct a new municipal building.
Mayor Erlinda N. Britanico was able to receive an aid of One Million Pesos from the National Government through the efforts of Assemblyman Salvador B. Britanico for the construction of the new building. The old building was completely demolished to give way for the new construction which was immediately implemented.
Before the construction was finished, EDSA I occurred and the mayor was replaced by an Officer-In-Charge Mrs. Gloria Jaen. When funds were used up and there was no more additional aid from the national Government the work was temporarily stopped.
In 1992, Mayor Erlinda N. Britanico was re-elected Mayor. It was an obsession on her part to finish the project she started. Out of local funds and contributions from other agencies of the government construction was continued. The first to be rehabilitated was the Police Department. Then the Chief of the Philippine National Police General Ramon Montaño thru the efforts of General Gerardo N. Flores released an amount of Php100,000.00 for the construction of the office of the Miagao Police Force. Other offices followed until finally in 1992 when it was turned over to the Administration of Mayor Julieta N. Flores.
The new municipal building that houses the three branches of government, the executive, legislative and judiciary is the product of a creative mind and ingenuity of Mayor Julieta N. Flores. Her intention to improve the Municipal Building began after she won her last term of office in the local election of 1998, thinking that this could be the most precious legacy she could leave behind her constituents whom she had served for almost a decade.

Her dreams for this noble project showed traces of reality when Senator Miriam Defensor Santiago extended financial assistance for Miagao in the amount of Two Million Pesos which was consequently added with another Five Million Pesos.

The first plan was to construct a legislative building besides the Justice Ramon Britanico Hall. But Mayor Flores thought for a while that local governance will be more effective if the offices of the executive, legislative and the judiciary are located near each other. Aside from the fact that it will be more convenient to the public, coordination among the three branches can be established easily. Then finally, a new building was constructed annex the old municipal building which is called as the legislative building.

The municipality now has a twin municipal building constructed parallel to each other. The one located in front which is the executive building houses the Office of the Mayor, a briefing room formerly used in the SB Session Hall and the offices of the Municipal Administrator, Budget Officer, Planning and Development Officer, Engineer, the General Services Officer and the Personnel Officer at the second floor, while the offices of the Municipal Treasurer, Assessor, Accountant, Legal Officer and Licensing Officer are in place at the ground floor.

The building at the back which is the legislative building houses the Sangguniang Bayan Session Hall and the Office of the Vice Mayor, individual cubicles for SB Members, the Court Room, the Judge chamber and office space for the staff  at the second floor, while at the ground floor are the offices of the Civil Registrar, MSWDO, PopCom, BIR and the COMELEC. The PNP and the detention cell also occupies space at the ground floor.

The Miagao Municipal Building is a precious achievement Mayor Julieta N. Flores can give the people of Miagao which she considers as the centerpiece of development during her time.

[home] [profile] [history] [government] [tourism] [education] [events] [downloads]

For questions, comments and suggestions, e-mail: The Webmaster